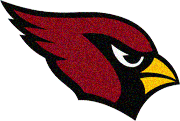 Today is the Day! If the Cardinals win they go to the Superbowl! Nobody thought they could get this far. I have always believed. Go Cardinals!
I made a Mexican stew in the crockpot yesterday that turned out amazing. I love that it's fat free and delicious. And I love that we both enjoyed it. There is a lot left to eat throughout the week too. Today I have a Roast in the crockpot cooking all day. Tonight we shall have a feast. Served with mashed potatoes and au jus gravy, broccoli and a salad. It's almost completely healthy! I need my red meat.
I have been on facebook quite a bit. It's pretty cool there, I have found some old high school friends and I've been chatting with my ex. It's interesting. His sister found me too. She posted some pictures from Christmas and of course my kids are in them. I'm glad I got to see them. His family still loves me. It's nice to feel some roots.
No big plans today. The car is in desperate need of a washing. I may do that for my exercise. I am taking the day off from working out. My muscles are sore. I hope you all have a great Sunday. We sure will :)