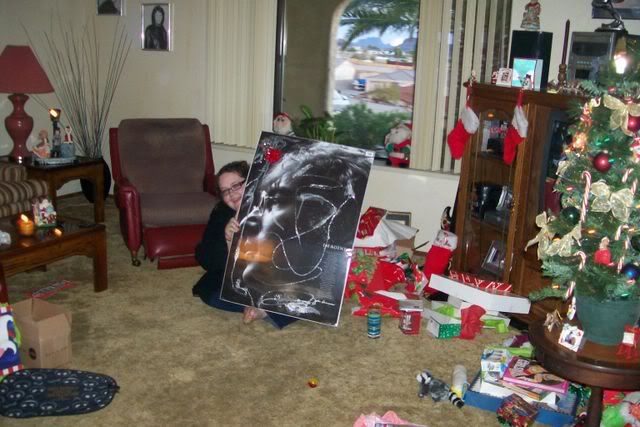 My daughter with her new John Lennon poster at Christmas.
Well, I'm getting the hang of this place and I like it! I miss the homepage but I'll deal.
I joined Facebook last night and it's pretty cool too! I love their homepage. Makes me feel like I'm on Journalspace kinda. I have found some of my old friends already from JS and in life. Awesome.
I am resting from my workout right now. Whew! Doing good, lost another half pound yesterday. Hope it wasn't just water weight.
Forest asked about my sister so I thought I'd write about her for a minute. She is recovering well from her surgery but her marriage is another story. It's been rocky since the moment she found out and we have both been talking to each other a lot for support. They took a trip to Vegas for New Years which is also her wedding anniversary. He quit his job and has not made any contact with the woman he cheated with (as far as she knows). She wants to work it out so we are all being supportive but I can't help but be a little angry at him for breaking my little sisters heart.
It's hard for her. It's so much betrayal but she is really being strong. Working on herself. She has lost a ton of weight because of the stress but she knows she needed to anyway. We have been talking about taking a trip to WVA this summer to see my Dad's family. My brother wants to go too. I think it would be really cool.
OK, time to read some blogs and get moving around here. Hope you all have a wonderful Tuesday...