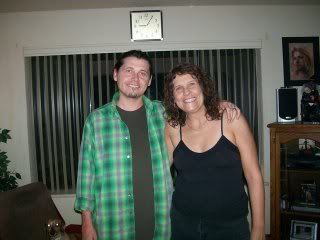 I am enjoying the morning. It's quiet in here. No TV, the only sounds are my own. I like that. It's my time. I read my meditation book and it was on letting go. That's always been a hard one for me. Once I'm friends with someone I have a hard time letting go. Or else I just shut myself off completely. It's always one extreme or the other. I am trying to find a balance.
This picture is of my brother and I back in October. His 38th birthday is today!! It really makes me feel old now that my siblings are approaching 40. I am the oldest so you'd think I'd feel that way already but I haven't. I can't believe my little brother is getting up there with me! I am so proud of him. He teaches English at a high school in Phoenix. He has been sober for two years already!!! What an amazing gift recovery is.
You see all the fat around my middle in that picture? It's gone now. Almost completely. I was about 12 pounds heavier there. I seem to have gained just in my midsection this time around. Some in my arms and face too. Well, I am not sad to see that go. Actually this picture is what made me see how fat I was getting. I looked at it and said "That is not what I look like"!!! My brother goes "UH, yes that is you!" Thanks a lot little brother!! lol
It made me get off my butt and start doing something though. I can't let myself get in the danger zone. There is too much obesity in my family.. I have to start getting healthy now. So that's what I'm doing.
I did work out yesterday and it hurt like hell too! Today I am resting my muscles. I think we'll probably watch football. The Cardinals won last night! Woo Hoo! We kicked their butts 33 to 13. It was an amazing game. Go CARDINALS!!! Superbowl bound for sure :)
Hope you all have a wonderful Sunday...